This color represents compassion, nurturing and love. It relates to unconditional love and understanding, and the giving and receiving of nurturing. We always think of Pink in little girls bedrooms. Pink, sugary cotton candy always comes to mind, sound about right? 💗 Well, pink has come a long way, in the right shade and application can be quite sophisticated, and sugar-free. My favorite pinks are soft and pure and look amazing paired with grays, greens and blues. Here are 10 ways to use pink in your home:
In Draperies:
Soft pink draperies, and deep grey walls are a killer color combo. Here, gorgeous soft pink panels have a softening effect against the bold grey (Benjamin Moore Anchor Gray). The nursery is a great way to display a certain quiet sophistication with the dark and light color scheme that will grow right along with baby girl.
In Appliances:
The pink refrigerator by Smeg is like a cute exclamation point in this sweet little kitchen. Choose appliances in a color you love, because it will be a reflection of who you are and will give you joy for years to come. Even just a dash of pink, here and there offers a cute highlight to more neutral backgrounds.
In Furniture Statement Pieces:
The statement piece in your room is bright, colorful, and it is normally bold and unique. The statement piece is the thing people notice first about your room. It is most commonly an accessory, a single piece of furniture or an accent wall. Notice in the picture above, your eye immediately goes to the bold pink highboy on the back wall. It's a fun and playful nod to color and whimsy and helps to liven up an otherwise fairly neutral space.
In Walls:
Bright, soft and warm, the pale pink walls in this living room give a sense of luxurious sophistication without being childish or too bubble gum.
In Entry Doors:
 A bold statement can be as simple as an original color choice, in this case an entry door. Eclectic and pretty, this door welcomes and invites visitors who cant help but smile when they see it.
In Bedding: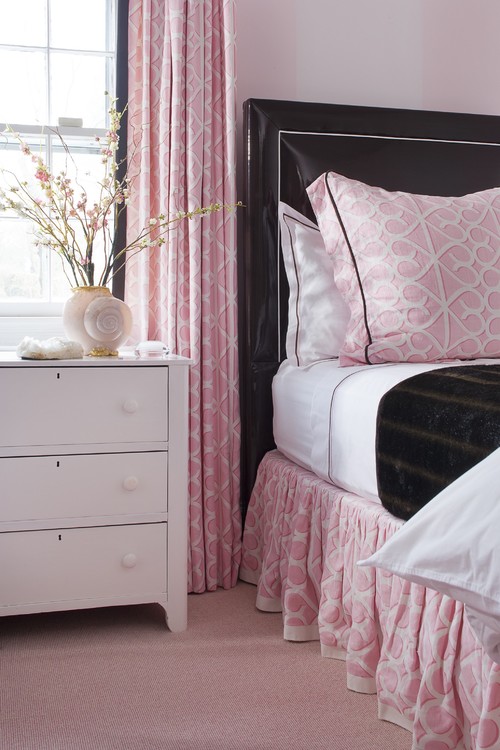 Pink, paired with a dramatic espresso brown is another gorgeous killer color combo that beautifully balances light and dark to give a sophisticated color palette.
In Accessories: 
Pink is a great way to add a splash of fun color here and there. If the overall color is too strong in a room, it's great as an accent in a toss pillow or decorative pieces on a table.
In Tile:
A soft and pretty tile selection in the bathroom is a great way to use pink without getting too bold or obvious. It strikes a perfect balance of light and soothing and sophisticated yet chic.
In Shelving:
Painting the Insides of the shelves works beautifully in built-ins or stand-alone pieces. It's a great way to update and personalize older pieces that need a breath of fresh air.
In Lighting:
Light colors and fun lighting are just one more way to incorporate this gorgeous color into your interiors.
The color pink puts people in touch with the nurturing side of themselves, through either the need to receive or the need to give, nurturing and TLC (tender loving care!). And just keep in mind, if pink is too strong for you, combining it with other darker colors such as dark blue, dark green, black or gray, adds strength and sophistication.
Be sure to subscribe to our newsletter so you don't miss anything!